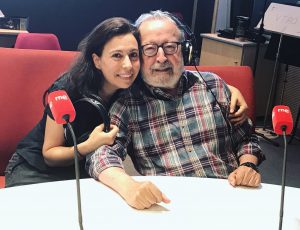 ¿Pop, rock, punk, shoegazer, alternativo, college rock, power pop, indie, goth, noise, stoner, post rock, after punk, trash, etéreo, new wave, hardcore, grunge, dream pop, riot grrrls ….? Más allá de etiquetas, el programa Ecos del siglo XX es simplemente un repaso a las músicas que marcaron el ritmo del siglo pasado y a la actualidad musical que bebe de esas fuentes.
Un programa dirigido y presentado por Laura Pardo, con la colaboración habitual de José Ramón Pardo, que puedes escuchar en la página de Ivoox , Spotify o Itunes o directamente aquí en los enlaces a cada podcast que ves abajo (ordenados de más reciente a más antiguo).
Y pinchando en este botón, te puedes suscribir:
Programas
Ecos del siglo XX nº 13
Un podcast navideño un poco atípico, con Laura Pardo y José Ramón Pardo alternándose en las elecciones de música. Suenan Stevie Wonder, The Dickies, Chuck Berry, The Sonics, Elvis Presley, Depressing Claim, James Brown, Descendents, Tom Petty & Heartbreakers, The Damned, Simon & Garfunkel, Heatwaves & Freddie Dilevi, John Cale, Weezer y Gomaespuma.
---
Ecos del siglo XX nº 12
En este episodio Laura Pardo repasa canciones sobre el otoño junto a José Ramón Pardo. Suenan Morrissey, The Pop Tops, Big Star, Neil Sedaka, los Enemigos, Earth, Wind & Fire, Teenage Fanclub, Simon & Garfunkel, Yo la tengo, Neil Young, Death Cab for Cutie, James Taylor, Allah-Las, Yves Montand y The National.
---
Ecos del siglo XX nº 11
En este programa Laura Pardo y José Ramón Pardo repasan esos artistas que ellos creían que se iban a comer el mundo y al final se quedaron en mucho menos de lo que esperaban. Suenan: The La's, The Buggles, Power of Dreams, The Easybeats, Bullet Lavolta, The Knack, Curve, Los Íberos, Usura, Boomtown rats, Strangelove, Barry Ryan, Therapy?, Los Canarios, Team Dresch, 4 non blondes y Belly.
---
Ecos del siglo XX nº 10
Esta vez nos centramos en 1956 (José Ramón Pardo) y 1989 (Laura Pardo). Suenan: Pixies, Elvis Presley, The Stone Roses, Carl Perkins, The B52s, Frankie Lymon & The Teenagers, Love & Rockets, Guy Mitchell, The Cure, The Platters, The Jesus and Mary Chain, Little Richard, Faith No More, Gene Vincent, Los Flechazos, Las Hermanas Fleta, Héroes del Silencio, Ernesto Hill Olvera, Operation Ivy, Dean Martin, The Cult, Bill Haley & His Comets y Nine Inch Nails.
---
Ecos del siglo XX nº 9
Especial calor y verano, con Laura Pardo y José Ramón Pardo juntos durante toda la hora. Suenan: The Cure, Mungo Jerry, The Undertones, The Kinks, The Barracudas, The Lovin' Spoonful, Radio Futura, Eddie Cochran, Ella Fitgerald & Louis Armstrong, Nat King Cole, Family, Seals & Crofts, The Flaming Lips, Nancy Sinatra & Lee Hazlewood y Jane's Addiction.
---
Ecos del siglo XX nº 8
Laura Pardo comienza repasando algunas de las bandas que irán al festival Visor Fest. Pronto se une José Ramón Pardo para comentar algunas de esas canciones y pasar a las secciones de «Despedidas» y «Parecidos razonables». Suenan: The House of Love, New Model Army, Nada Surf, Happy Mondays, Surfin Bichos, The Ronettes, Dick Dale, The Walker Brothers, Modern Lovers, Jorge Ben, Rod Stewart, Wire y Elastica.
---
Ecos del siglo XX nº 7
Laura Pardo y José Ramón Pardo repasan lo que oían el año que comenzaron con 16 años y acabaron con 17. Laura elige las de 1991 y José Ramón las de 1958. Suenan: Pearl Jam, Ricky Nelson, My Bloody Valentine, Domenico Modugno, Slowdive, The Chordettes, Teenage Fanclub, Danny and the Juniors, Primal Scream, The Champs, Dinosaur Jr, David Seville, Nirvana, Jerry Lee Lewis, Red Hot Chili Peppers, The Everly Brothers y REM.
---
Ecos del siglo XX nº 6
Empezamos con cinco temas del 1993 más punk que no cupieron en nuestro programa de repaso a ese año, para que después José Ramón Pardo se una a Laura Pardo en la sección de despedidas y la de «Segundas partes que sí fueron buenas»: Suenan Swingin' Neckbreakers, Bad Religion, Dwarves, The Queers, Bikini Kill, The Monkees, The Cure, The Who, Talk Talk, Hüsker Dü, Sugar, Pink Floyd y Roger Waters.
---
Ecos del siglo XX nº 5
En esta ocasión Laura Pardo y José Ramón Pardo hacen un nuevo mano a mano con la temática del invierno como protagonista. Suenan Fountains of Wayne, Gilbert Bécaud, Reigning Sound, Elvis Presley, Neil Young, Simon & Garfunkel, First Aid Kit, Aztec Camera, Stiv Bators, Bruce Springsteen, Mumford & Sons, The Impressions, Sufjan Stevens, Francis Cabrel y Nick Cave and the Bad Seeds.
---
Ecos del siglo XX nº 4
En la primera parte de este programa Iratxe Gómez Casado acompaña a Laura Pardo para descubrirnos sus gustos musicales. En la segunda mitad llega José Ramón Pardo para repasar las despedidas de enero y comenzar la sección «Original y copia».
Suenan Depeche Mode, Kraftwerk, Sisters of Mercy, Of Monsters and Men, Queen, The Hollies, The Germs, Rory Gallagher, Red Aunts, Elvis Presley, Coque Malla, David Bowie y Supergrass.
---
Ecos del siglo XX nº 3
En este episodio recordamos canciones que cumplieron 50 ó 25 años en 2018. Enfrentaremos 1968 y 1993 a través de discos que se publicaron o entraron en listas esos años. José Ramón Pardo elige los cortes de 1968 y Laura Pardo los de 1993.
Suenan: The Breeders, The Beatles, Buffalo Tom, Marvin Gaye, Björk, The Turtles, The Afghan Whigs, Simon and Garfunkel, Liz Phair, Cream, Suede, The Doors y Mazzy Star.
---
Ecos del siglo XX nº 2
En la primera media hora del primer programa de 2019 Laura Pardo repasa algunos discos destacados del año pasado y las músicas del siglo XX de las que se nutren. En la segunda parte está acompañada por José Ramón Pardo en las secciones «Adiós» y «Segundas partes que sí fueron buenas».
Suenan Anna Calvi, Patti Smith, Siouxsie and the Banshees, PJ Harvey, Father John Misty, John Lennon, The Zombies, Elton John, Buzzcocks, The Honeycombs, The Damned, Dead Boys, Lords of the new church, The Springfields, Dusty Springfield y Cat Stevens.
---
Ecos del siglo XX nº 1
Felicitamos las fiestas con la colaboración de José Ramón Pardo y una colección de temas navideños un poco atípicos. Suenan: Cheap Trick, Beach Boys, The Pogues, Brenda Lee, Bad Religion, Ronettes, U2, Bruce Springsteen, Slade, The Kinks, Jet, Ike And Tina Turner, Ramones y John Lennon.